When the intended shape of a molded part is distorted during the cooling phase of injection molding, it is called warpage. It is the most common error pattern when it comes to injection molding. But there are ways to prevent it.
Injection molding is a great and highly efficient manufacturing process in plastic processing. Thanks to its simplicity, the process allows to produce a high volume of identical plastic parts and is therefore tailor-made for mass production. Even though the process in itself is rather simple, the setup process requires unique technical expertise. Because if the process is not set up precisely, certain error patterns are likely to occur. Hence, these patterns can often lead to defects in the produced parts, which compromises the product's aesthetic appeal and functionality.
Although there are many different types of defects to keep an eye on, the most common one is warpage. Warpage – sometimes called warping – can practically occur in just about any injection-molded part. Yet, it is far from the only issue that can happen when it comes to injection molding.
What is warpage?
Technically speaking, warpage is a dimensional deformation. It is defined as an excessive distortion of a part after ejection which deviates from the injection mold cavity. This distortion can be very slim, so it is neither a functional nor aesthetic problem. Other times, the distortion is severe enough to cause the part to be rejected.
There are two different types of warpage: bowing and twisting. Bow occurs when the part begins to bend out of plane. Let's take, for example, a rectangular shape. When there is no warpage, the entire rectangle resides within one plane. When the part bows, the four corners of the rectangle are still plane relative to each other. However, the center of the rectangle moves out of plane, resulting in a bow shape of the part.
On the other hand, twisting occurs when just one section of the part rotates out of plane. Take once again the rectangle mentioned above: If just one corner falls out of plane, while the other three corners are still in plane, the rectangle is considered twisted. In both cases, twisted or bowed, the part is not functional.
Why does warpage occur?
The main cause of warpage is temperature differences, which lead to the parts not shrinking uniformly. Therefore the cooling phase is where most of the errors related to warpage occur. An accurately calculated cooling rate needs to be respected; otherwise, uneven cooling may result in warpage. A sufficient amount of cooling channels and their right placement are also crucial to evenly cool the plastic.
Since the cooling phase usually takes up to 80 percent of the cycle time, production managers are often tempted to save in the wrong place. Other solutions are far better suited and do not lead to warpage but more productivity.


How to solve it?
Studies have shown that standard steel does not distribute heat uniformly. Therefore, molds made of steel can cause several problems as an uneven heat distribution can lead to distortion and warpage. Thankfully, experienced metallurgists have found a solution to warpage in injection molding.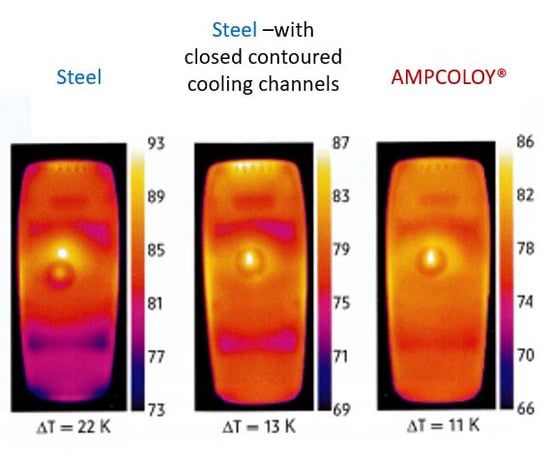 Image: Uniform heat dissipation thanks to AMPCOLOY®
Aluminum bronze offers moderate hardness and outstanding conductivity. Thanks to their excellent heat transfer properties, mold designs that use aluminum bronze show far less warpage, thus increasing productivity. Furthermore, aluminum bronze can drastically speed up the cooling phase, reducing cycle times. Even though aluminum bronze is already a great solution, the premium solution for injection molding is beryllium bronze. These alloys combine good strength, wear resistance, high-temperature resistance, and high toughness with excellent conductivity.


Other injection molding error patterns
Flow lines are off-color wavy lines that appear on the surface of a part and are often caused by a too low injection speed and/or pressure. It can be solved by increasing the injection speed and/or pressure or by increasing the nozzle diameter to raise flow speed and prevent early cooling.
A short shot occurs when the cavity is not completely filled by the molten material. It is most often caused by blocked or too narrow gates. To solve the issue, the mold either needs to be redesigned with wider channels and gates, injection speed/pressure needs to increase, or mold temperature needs to be increased to prevent material from premature cooling.
Sink marks are small depressions located in thick sections of a part. They occur because the cooling time is incorrect, and the plastic is not cooling down enough while inside the mold. To solve the issue, the mold temperature can be decreased while increasing the holding pressure and time.
Vacuum voids are air pockets trapped inside the part. They are either caused by an insufficient holding pressure or incorrect mold alignment. To fix the issue, position the gate near the thickest part of the mold and use less-viscous plastic to avoid trapping air or gas. Vacuum voids can also be fixed by increasing the holding pressure and time and by a correct and seamless alignment of your mold parts.
Want to learn more about plastic injection molding and why copper-based alloys are the right choice for your plastic tooling operations? Download our free technical paper «A Rookies Guide to injection molding - How copper alloys add direct value to the plastic industry» now.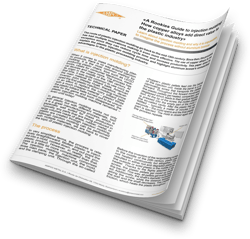 ---