Food safety standards and the certificates that go along with them like the ones issued by the ISO, the International Featured Standard (IFS) or the British Retail Consortium (BRC) are becoming a requirement throughout the food industry. Whether you are legally required to obtain a certification depends on the laws that apply at your location. But what exactly are food certificates?

Food safety certification is a verification by a competent third party that products, processes and/or systems of a company meet food safety standards. It is based on the results of tests, inspections, audits and guarantees that a company's products and/or system conform to accepted national and international industry standards and additional requirements that might be requested by the market. Food certificates certify that your production adheres to the best practices available and to safety standards that guarantee that the food your plastic products will contain is absolutely safe to eat.
There are many benefits to using certified production standards, including the following:
Food certificates signify to traders and consumers that they can rely on your company taking good governance and corporate responsibility seriously.
Adhering to certified standards ensures that you use the best quality, environmental and/or other management systems, which will help you consistently produce products of high quality in an efficient manner.
Certain insurance companies will not insure your company if it has not been verified that it adheres to certain standards.
Not complying with safety standards can result in unsafe products that have to be recalled, damaging your finances and reputation.
What's about regulations?
The United States and Europe both have strict regulations in place around food-contact materials, but they differ and one should not be used to cross reference the other.
Be aware of your product's end destination or destinations and consult the regulations carefully for each area.
In the US, the FDA is in charge of food-safe regulation; material regulation is described in the Code of Federal Legislation (CFR) - 21 CFR 174 - 21 CFR 190.
In the European Union, the Regulation No 10/2011 for plastics in contact with food is the regulation you'll most likely need, though additional regulations exist for metals, cardboard and paper products, and ceramics.
Once a material is deemed to be food-safe, your production must be ISO 9000 certified (luckily this one is international!) and inspected to ensure "good manufacturing processes" are being followed.
Once all this work has been done, certificates are awarded and you can finally rest easy. It's a lot to navigate so bringing in a consultant or outside service can be valuable to get your product approved for production while focusing on product development and innovation.
If you want to know whether your company is required to be certified, check with your local lawmakers to find out. But either way, getting certified can be a good idea that comes with many advantages for you as a manufacturer of plastics. In case you wish to know about other ways plastics manufacturers can improve their production, do not hesitate to contact AMPCO METAL.
Get our Technical Paper «Advantages and disadvantages of copper beryllium in the manufacture of injection molds» for free.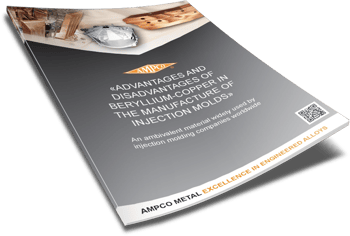 ---