The demand for increasing sales efficiency and improved streamlining business processes are important factors contributing to the expansion of the global digital transformation market. As an international company, AMPCO METAL is driven to participate in the growth of this market and to take advantage of the latest digital developments.
According to a report by ResearchAndMarkets, the digital transformation market is expected to grow at a CAGR of 22.7% from 2019 to reach $3,294 billion by 2025. Factors driving the growth in the global digital transformation market are the increasing technological advancements and government initiatives towards digitization.
What are the advantages of the digitization of marketing and sales in an international company?

Improving marketing and sales processes by implementing digital solutions brings along many advantages. One of the most attractive benefits is the digital presence of the company on the internet through blogs, social networks, and corporate pages, which multiply the visibility of the company and sales channels. Furthermore, better data management through technological tools leads to more information, which helps to make better decisions and improves efficiency and productivity.
Customer relationship management is a critical aspect of running a business and has proven its worth by helping thousands of companies reach their business goals more efficiently in a reduced amount of time. Digital presence not only opens sales channels but also allows new ways of communication with customers. By placing the customer at the center of the business, you can learn more about their opinions and use this information to ensure steady growth and improvement to guarantee a better customer experience.
Relationships between companies and their customers are essential to the company's success. Maintaining relationships with customers is crucial; if done poorly, it can deteriorate the link, and therefore, result in the loss of business. If done right, it can significantly improve the company and create opportunities for both parties. Consequently, it is essential to follow and manage customers, communications, and all interactions that happen between them and the company. And that is precisely where the need for an effective and proven CRM comes into play.
How does the use of a CRM contribute to better customer relationship management?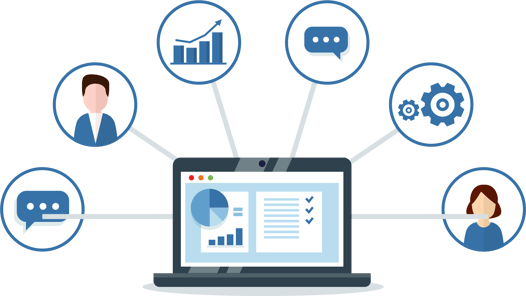 CRM stands for "Customer Relationship Management", a platform / SaaS (Software a service) used to store and organize data in one central location. The goal of a CRM is to help businesses manage their most significant asset, their customers.
It is used by companies that are looking to take control of the relationship they have with their customers. Most B2B companies that must track customers going through long sales cycles can use features and tools that CRM's provide, such as task automation, to make their efforts more meaningful and more efficient.
How can customer relationship management be improved?
1. Providing reliable data and metrics
Reporting and analysis are a considerable aspect of running a business, especially for the sales teams that are working so hard to get customers. It helps the team to know if there is any room for improvement in the current situation.
With a CRM system in place, you can streamline all the other data sources and provide your team with data and metrics that matter. Most of the CRM's categorize customers based on which stage of the lifecycle they have reached.
2. Accurate Data Representation
Companies today want their sales teams to work faster, more efficiently to generate more sales; however, doing so without a CRM can be a challenge. Supported by clear and concise insights, based on data collected by the CRM, it provides sales teams with the knowledge and tools to adapt to the industry's expectations.
3. Personalized Outreach with Automation
With an increasing amount of data gathered about customers, you are in a position to make an even more significant impact on your customers, through relevant and personalized outreach. Your relationship with your customer just got more personal.
4. Offer Proactive Customer Support
Customer support, technical support, or any support is a big part of the relationship quality between a customer and supplier. A CRM can help enterprises streamline their customer support interactions, by providing a granular ticketing features, which allows the sales teams to create support tickets based on customer requests, stay on top of the latest update, which is all archived in the customer's contact profile. This allows the company to be able to take action to resolve a customer's support request proactively.
What benefits has the sales team experienced in using a CRM like HubSpot?
HubSpot is an all-in-one, full-stack software that incorporates a CRM, Marketing, Sales, CMS and Service tools, which can help a company create, implement, and schedule its blogging, SEO, social media and email actions.
AMPCO METAL chose HubSpot, because of its vast array of features and integration possibilities. Still, more importantly, the adoption and implementation of HubSpot is part of a company-wide digital transformation initiative, which focuses on the improvement of customer experience, increase business opportunities and shifting the lead generation from mostly offline to mostly online. HubSpot enabled us to empower our salesforce in improving their effectiveness; whether it is in the office or on the road, they can access critical information about our customers on the fly, to better meet their needs.
In an interview with various salespeople of the AMPCO METAL sales team, the following advantages of using HubSpot were mentioned:
Shared ecosystem
The main advantage is the ability to create, manage and share data throughout the organization, moving away from the silo mentality to a shared ecosystem that provides added value to the employees throughout the organization, no matter their location.
Chantal, Inside Sales at AMPCO METAL SA, Switzerland: "My work has been more efficient since all information found on the same platform. One of the significant advantages is that we have a good overview of how many quotations have been closed or won. It motivates the sales team to sell more and increase customer satisfaction during the sales process, such as follow-ups, task assignments, and short responses."
Sales Hub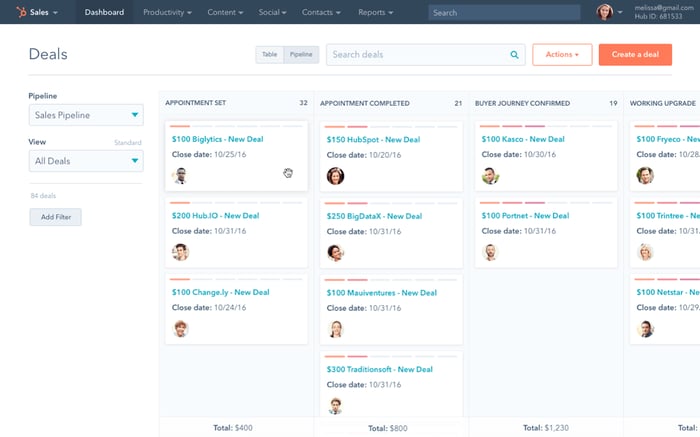 The sales hub is also an essential tool for the AMPCO METAL salesforce, as it provides a complete snapshot of the information regarding customer requests, but also allows us to visualize where the requirement stands in the sales pipeline. Additionally, when used with the "service" feature, we can log and track all customer support requests directly from the customer's, populating the customer's integrated profile so that we can keep track of this customer's experience.



Sandeep, Inside Sales at AMPCO METAL INDIA PVT LTD, India: "From the perspective of the inside and outside sales, we learned through the implementation of various features such as workflows and led data capturing that the automation of a prospect's journey enables the sales teams to focus on their core strength; meeting prospects and generating more leads. By using these tools and features, our customer touchpoint has significantly improved."
Marketing Hub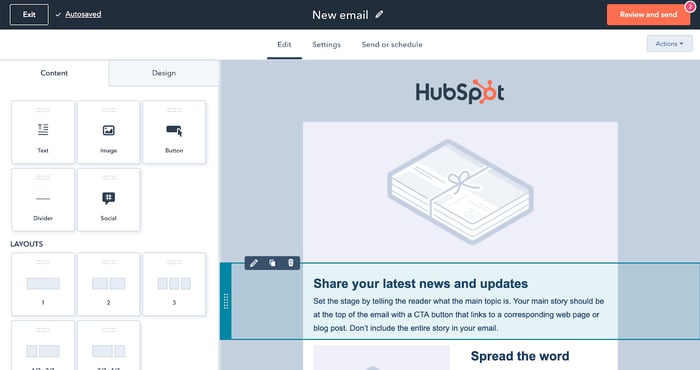 The marketing hub provides us with a range of marketing features, centralizing all of our tools, enabling us to measure the impact and performance of our marketing activities across the organization and seeing how all of these activities influence each other to generate quality leads.
Reporting feature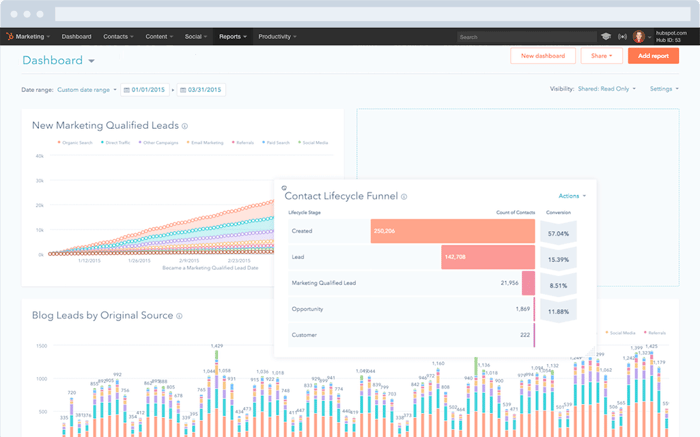 The reporting feature that HubSpot provides is a great way to see the current state of business on the fly. With a vast range of reports, we can follow the evolution of marketing, sales, service, and analytical performances.
By having all of these features together in one platform, we can take advantage of the whole HubSpot ecosystem, as all of them are interconnected, providing real-time access to all stakeholders involved in the customer's journey.