Costs are something that manufacturers and engineers in all industry branches have to put up with whether they like it or not. However, the mindset of just accepting costs as an unavoidable part of business can lead you to miss opportunities to reduce them. The fact that costs will always be incurred in some form does not mean that you cannot find ways to lower them in some areas.
For the forming industry, there is one particular way to reduce costs that manufacturers overlook at their own peril. It concerns the materials their production tools are made of.

The materials your tools are made of matters quite a lot. Their properties play a key role in determining how complex, how flexible and how quick your preparation and production processes are. If you can find materials that are more durable, more versatile, offer more advantages and are easier to handle than your current ones, your production will benefit from this in many different, possibly even unexpected ways. Choosing the right material for your production tools can optimize your production in ways that you had not even imagined were possible and end up saving you a lot of money. A particularly great preparation and production cost reducer is a material called aluminium bronze. In the next few paragraphs, we are going to explain to you why that is the case.
How aluminium bronze reduces costs
If you use tools made from aluminium bronze in the forming industry instead of regular tool steel, the first advantage is that galling can be avoided. Next, compared to coated materials, aluminium bronze allows for a bigger wear area definition as well as simpler reconditioning and changes of geometry are possible at any time, rendering your preparation and your whole production process simpler and more flexible, which saves you time and money.
The biggest advantage and cost-saver of all, however, is that with aluminium bronze tools, the metal forming process actually can be completed with fewer steps than with conventional steel tools. Because of the alloy's excellent properties that are perfect for metal forming, the process takes less preparation if you use aluminium bronze tools. Plus, aluminium bronze tools don't wear out as quickly as conventional steel tools. All of this significantly reduces the amount of time, work and capital you and your co-workers have to put into the preparation and execution of the metal forming process.
Lower costs for the forming industry
Creative engineers throughout the world choose aluminium bronze alloys to broaden their manufacturing options when forming high-value materials such as stainless steel or low carbon steel, aluminium, titanium, pre-finished metals and other exotic material. With increases of up to 30 % in productivity and lower overall costs, aluminium bronze has a lot of good arguments on its side. In case you want to know more about the advantages of aluminium bronze alloys for the forming industry, please contact AMPCO METAL for further information.
Get our latest Technical Paper on «Aluminium Bronze Alloys for a higher quality and productivity in the metal forming industry».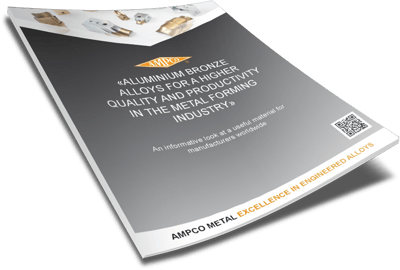 ---