Wear is a constant and bothersome companion in steel production. Therefore, AMPCO METAL has developed a unique technique to strengthen their alloys in order to offer an unmatched and superior wear resistance.
First, let's take a closer look at the definition of wear. According to the Cambridge Dictionary, wear is defined as «the damage that happens to an object in ordinary use during a period.» Therefore, wear is an ongoing process of interaction between surfaces. It causes deformation or even removal of material on the surface due to the effect of mechanical action between the sliding faces. There are a lot of possibilities to keep wear as low as possible. For example, specific coatings are often used to prevent the effects of wear.
Others include the usage of lubrication in order to keep friction as low as possible. The best way of preventing wear, however, is to use the right material. Aluminum bronzes offer a great wear resistance, which is especially useful in places where materials are highly exposed to wear.
AMPCO® 18 offers superior wear-resistance
The production of steel is an industry where the materials and parts used are very much exposed to wear. Wear can be a serious problem in any industry as it has direct effects on the productivity and therefore the economical success of a company. There are a lot of different types of wear, including galling or fretting, among others. Due to their very challenging environment, steel mills are particularly prone to wear. Therefore, aluminum bronzes such as AMPCO® 18 offer great advantages for any company in the steel industry.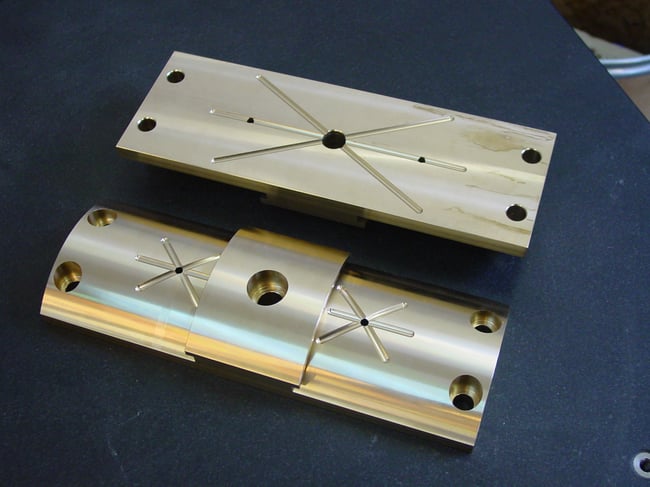 Picture: Slipper made of AMPCO® 18
There are a lot of parts, especially in the department of the hot-rolling mill, where AMPCO® 18 can make a great difference. Slippers, for example, are coupling parts used in this department. Slippers made of AMPCO® 18 offer a wide range of advantages, including:
Resistance to excessive fatigue
Higher wear resistance
Improved impact resistance
Low coefficient of friction
However, slippers are just one of many examples where parts made of AMPCO® 18 make a difference. Other notable components are: coilers, wedges, wear plates, bushings, bearings, and many more. But what exactly makes AMPCO® 18 superior to any other material?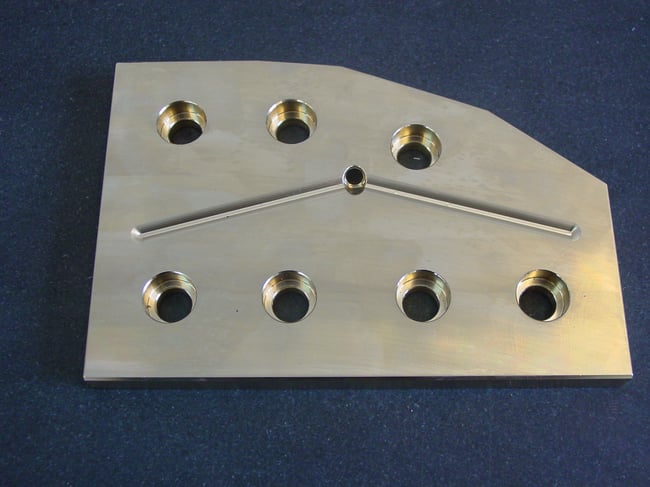 Picture: The back of a wear plate coiler mandrel made of AMPCO® 18
MICROCAST® Technology
Aluminum bronzes are alloys that already offer a pretty high wear resistance. Thanks to years of metallurgical experience, AMPCO METAL has developed a special manufacturing method to even further improve the wear resistance of its alloys. The MICROCAST® method is a production process developed by AMPCO METAL for the manufacture of various high-performance aluminum bronzes and special copper alloys. This method ensures an extremely fine and uniform grain microstructure, resulting in the overall better performance of the alloy.
The key in the production of AMPCO® 18 is that there is no γ2-phase. Typically the intermetallic γ2-phase causes brittleness and considerably weakens the corrosion resistance. As in the production of AMPCO® 18, this process is not needed, the alloy offers a finer grain structure and therefore excellent mechanical properties.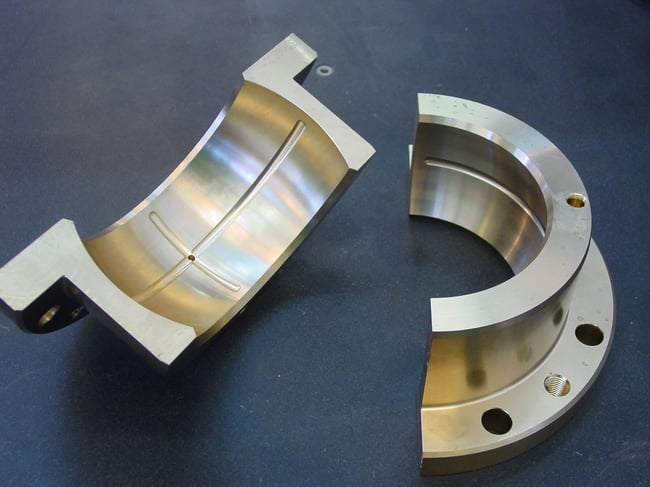 Picture: Bearing made of AMPCO® 18
What makes AMPCO® outstanding?
30 to 50 % greater resistance to corrosion
20 to 40 % higher wear characteristics
10 to 20 % higher mechanical properties
Furthermore, AMPCO® 18 is nickel-free which ensures that there is no nickel contamination and the material prevents any galling against stainless steel. These qualities enable this alloy to perform successfully in an extremely wide range of difficult applications – including steel mills! For further information, contact our experts! We happily provide you with the information necessary.
Want to learn more about how companies in the steel industry can benefit from AMPCO METAL's aluminum bronzes? Download our free case study «How AMPCO METAL creates value in the steel industry» now.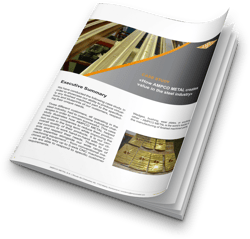 ---