The maritime industry places high demands on its materials. The high salt content in the water and the ocean currents are only two of many factors that promote corrosion. However, there is an alloy that is able to withstand the harsh conditions of the oceans.
Corrosion is an annoying companion in the industry. Correspondingly, high expectations are placed on the materials. They must be of high quality, as durable as possible and corrosion-resistant - and all this at the lowest possible cost. However, it is not worth saving on material procurement. After all, corrosion damage consumes around 2,500 billion US dollars worldwide per year which is the equivalent to just over 3 percent of global GDP.
Especially in the marine industry, corrosion-resistant metals are needed, since seawater is the most common trigger for corrosion and accelerates the corrosion process. The reason for this is the high content of dissolved salts. They ensure that the chemical reaction in the ocean is way faster than on land. In addition, the currents in the water promote erosion-corrosion and cavitation.
Aluminium Bronze and its advantages in seawater
One alloy, which is particularly resistant to seawater and generally very resistant to corrosion is Aluminium Bronze. Aluminium Bronze alloys consist mainly of copper to which 9-14% aluminium is added. Other metals such as iron, manganese and nickel can serve as additional alloying elements to further enhance certain capabilities such as sliding properties.
Aluminium Bronze owes its excellent corrosion resistance to its protective passive film. Compared to other metals, this film forms very quickly and heals quickly in the event of injury. This protective layer expresses itself in its typical brownish colour. Although this does not look very aesthetic from the outside, this film protects the metal it encloses. The aluminium is mainly responsible for this film. It reacts easily with the oxygen in its environment and forms this insurmountable barrier. Thanks to these properties, the material is used especially in the marine industry.
Although this external protective film does not aesthetically make a good impression, it is not worth cleaning the Aluminium Bronze. This is because the alloy loses its corrosion resistance for a short time and the chemical reaction causes damage to the Aluminium Bronze, which can then possibly be restricted in its functionality. Therefore, they do not have to be specially cleaned and require generally very little maintenance.
Multiple usages of Aluminium Bronze products
Plant components
Due to their seawater resistance, AMPCO® alloys are often used in plant components such as pumps, valves, flanges, tube fittings, etc. In addition to seawater resistance, AMPCO® alloys have high strength and high hardness and therefore offer excellent resistance to corrosion and erosion-corrosion. Salt solutions in different concentrations and at different temperatures do not have a damaging effect on them.
Seawater desalination plants
The lack of fresh water has also led to strong demand for seawater desalination plants. Here, too, AMPCO® products are used due to their corrosion resistance. Seawater or brackish water is also used as cooling water in industrial plants near the coast. Due to their properties, AMPCO® alloys are the preferred choice for such plants.
Seawater piping systems
Like many Aluminium Bronze alloys, the products of AMPCO METAL are especially useful in propellers and in seawater piping systems aboard ships and offshore platforms. In addition to their resistance to sea water, the alloy is furthermore insensitive to pitting and crevice corrosion.
Potash industry
Potash is a potassium-rich salt that is mined from underground deposits formed from evaporated sea beds millions of years ago. The term "potash" refers to a group of potassium (K) bearing minerals and chemicals. The compound, Potassium Chloride (KCl), is a dominating element and is very corrosive for any material.
Potash refining involves corrosion of sodium, potassium, magnesium, chlorides sulfates, and hydroxides from a few percentages to crystalline slurries and any temperature from ambient to over 100 °C.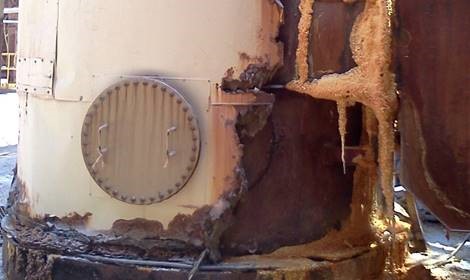 This picture shows how severe the corrosion is on low alloy stainless steel material. Indeed the pH is so low that when combined with water, even condensed water, it creates a very severe general corrosion environment. When combined with high temperature the corrosion rates accelerate to several mm/year.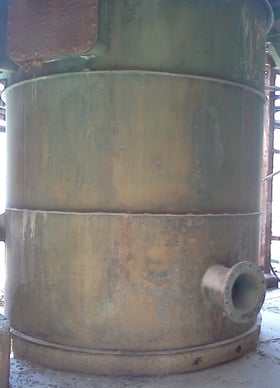 This thickener tank is made of AMPCO® alloy, specifically AMPCO® 8. Stringent manufacturing procedures, severe quality controls, and precise chemical composition make AMPCO® alloys resistant where other materials badly fail.
Download our Technical Paper «The advantages of Aluminium Bronze in corrosive environments» for free!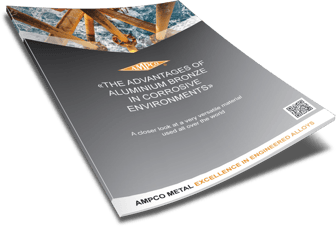 ---