The aviation industry manufactures equipment that must perform at peak levels under the harshest conditions. Accordingly, it relies on high-performance alloys to ensure that the equipment meets the highest safety requirements and longevity.
August 14, 1901 marks a very special day in the history of aviation. In the early hours of the morning, German pioneer Gustav Weisskopf makes aviation history in the U.S. state of Connecticut. He took off in his self-built "Condor" airplane. He only flew to a maximum altitude of 15 meters and over a distance of less than a kilometer. Nevertheless, the flight is considered the first engine-powered flight in world history.
Today, more than 100 years later, flying has long since become part of everyday life. Instead of just under 15 meters from the ground, passenger planes fly at altitudes of around 10 kilometers. Instead of over a scant kilometer, nowadays it's usually over several hundred, if not thousands, of kilometers. But conditions at altitudes above 10,000 meters pose challenges for aircraft. Air pressure, temperatures, and weather demand maximum performance from the aircraft material.


What are AMS standards?
While 120 years ago aircraft materials were largely wood, wire, and fabrics, today mostly metal alloys are being used. Because of this special environment in which these alloys must function, there are special standards that must be met: the so-called Aerospace Materials Specifications (AMS), issued by the Society of Automotive Engineers (SAE).
As global aerospace engineering standards are vital for aircraft airworthiness, the AMS database consists of over 8.500 standards. They list various requirements including chemical composition and technical requirements such as corrosion or heat resistance. To stay up-to-date with advances in material science and process technologies, the database is continuously updated and revised.
Benefits of copper alloys in the aerospace industry
Critical components in aircraft engineering require construction materials with high strength, good ductility, and resistance to corrosion and wear. For this purpose, specially produced aerospace alloys are used. These include in particular aluminum, nickel, tin, and copper-based alloys. Aluminum alloys are the predominant materials for aircraft fuselages and other engineering structures and compounds thanks to their superior lightweight and corrosion resistance.
On the other hand, copper alloys are largely used when it comes to safety-critical components as they offer a lot of benefits including:
High strength
Corrosion resistance
Good conductivity
Fatigue resistance
Good impact
What has aluminum bronze to offer in the aerospace industry?
As a key integrated partner, AMPCO METAL provides engineered alloy solutions that meet and surpass highly-demanding AMS standards. Through our patented production process, the AMPCO® alloys offer superior mechanical properties. We highlight some of our alloys, especially useful in the aerospace industry.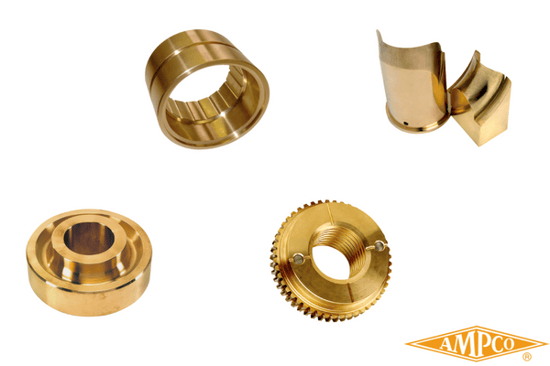 Picture: Parts made of AMPCO® alloys
AMPCO® M4
AMPCO® M4 is a nickel-aluminum bronze that reached mechanical properties comparable to beryllium copper at an overall lower cost. It is highly suitable as an aircraft specification alloy for gear in retractable landing assemblies, engine spacer bearings, and other similar applications.
AMS alloys
AMPCO METAL develops special AMS alloys, so-called aerospace bronze, typically used for parts and landing gear. Our AMS alloys result from carefully selected alloying elements, well-documented manufacturing processes, and specific heat treatment parameters.
4640 is a high-strength alloy with mechanical properties beyond the range of commercial nickel-aluminum bronzes. AMS 4640 is recommended for heavy-duty high-loaded mechanical and corrosive applications. Typical applications involving abrasive wear, friction, deformation, and chemical erosion including aircraft bearings and bushings
4880 is a nickel aluminum bronze alloy engineered to deliver performance and significant cost savings. The alloy was initially developed as an aircraft specification for gears in retractable landing assemblies, engine spacer bearings, and other similar applications. It is rapidly growing in use where higher mechanical properties at elevated temperatures and corrosion-resistant properties are required.
Want to learn more about wear resistance and why copper-based alloys are the right choice for your wear applications? Download our free technical paper «Wear resistant alloys – Guidelines and tips» now.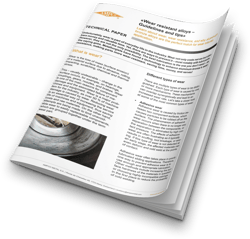 ---