Copper-based alloys such as aluminum bronze and beryllium bronze are the premium solution for injection molding as they combine good strength, wear resistance, high-temperature resistance, and high toughness with excellent conductivity.
The injection molding process comprises four phases: Clamping, injection, cooling, and ejection. Compared to other phases, the cooling phase takes up a lot more time. However, it is also the only stage that has the scope of reducing cycle times and increasing production rate further. Why is that?
As the heat energy that needs to be removed is almost the same in each cycle, the time it takes to remove that energy is reliant on the mold design and the properties of the mold materials: the faster a material can dissipate heat, the shorter the cycle times. So what is crucial for material to dissipate heat quickly and reliably?
The keyword: Thermal conductivity
According to the Oxford dictionary, thermal conductivity is defined as «the rate at which heat passes through a specified material, expressed as the amount of heat that flows per unit time through a unit area with a temperature gradient of one degree per unit distance.» Or to put it simply: The more thermally conductive the material is, the faster it can dissipate heat.
Therefore, thermal conductivity is a very neat and important property to have when it comes to the cooling phase in plastic injection molding. Because it allows you to speed up the cooling process, reducing the total amount for one cycle. Thus, resulting in overall higher productivity of the whole process.
Alloys that offer a high thermal conductivity
However, the search for materials with good thermal conductivity is not as easy as one might think. This is because the best heat conductors are at the same time quite noble, therefore also very expensive and hardly affordable for plastic tooling activities: diamond, silver or even cubic boron nitride have excellent thermal conductivities. Closely followed by a material that is significantly less expensive and therefore made for our purposes: copper!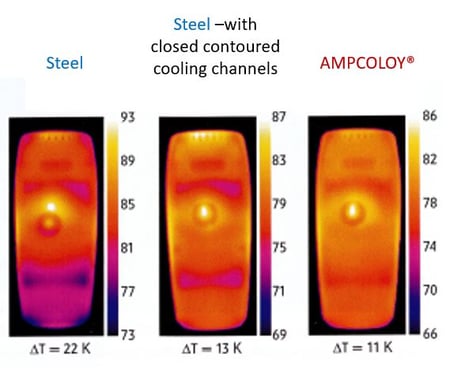 Image: Uniform heat dissipation thanks to AMPCOLOY®

Yet, copper by itself is not strong enough to serve as an injection mold. Experienced metallurgists have solved this problem by developing copper alloys that attain strength and hardness while maintaining much conductivity. These alloys not only exceed the thermal conductivity of conventional steel but also match and even exceed the hardness and strength of these conventional steel molds.
AMPCOLOY® – your partner in plastic tooling
For the unique challenges in plastic tooling, AMPCO METAL has developed special high copper alloys called AMPCOLOY®. AMPCOLOY® is a polishable, hard version copper alloy without coating or lead and clean trace elements and is available with beryllium (AMPCOLOY® 83, 88, 89, and 95) or beryllium-free (AMPCOLOY® 940, 944, and 972). While AMPCOLOY® with beryllium provides the alloy with the highest hardness, AMPCOLOY® without beryllium has a higher thermal conductivity with comparable hardness and mechanical properties.
Both are engineered with exceptional conductivity, high strength, and unique wear characteristics, delivering higher lifetime, quality, and performance. These properties make AMPCOLOY® the best material for injection molding, with the highest thermal conductivity for mold problems.
Other unmatched advantages of AMPCOLOY® include:
Improved productivity by up to 40 % due to a reduction in cooling times
Better product quality due to minimal to no warpage.
Longer service life due to less thermal stress and less tendency for thermal cracking.
Practical examples on the uses of AMPCOLOY®
AMPCOLOY® 83, AMPCOLOY® 940, and AMPCOLOY® 944 (if a beryllium-free material is required) are best used for core and inserts. For example, in the production of rubbish bins, or plastic buckets, core parts made of AMPCOLOY® 940 have been shown to decrease the cycle time significantly. In the mass production of beverage bottles, cores made of AMPCOLOY® 83 have shown the same impact.
Want to learn more about plastic injection molding and why copper-based alloys are the right choice for your plastic tooling operations? Download our free technical paper «A Rookies Guide to injection molding - How copper alloys add direct value to the plastic industry» now.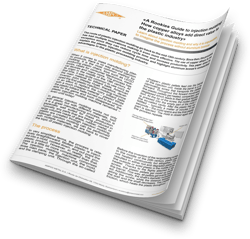 ---